Wales Comic Con!
TUESDAY 30TH APRIL AT 8:42PM |

NO COMMENTS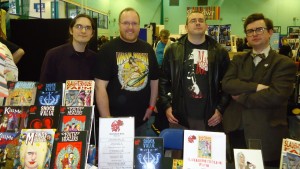 Hellbound Media had a great time at Wales Comic Con in Wrexham on Sunday. A very successful launch for Slaughterhouse Farm and our busiest con to date. Thanks to everyone who stopped at our table to chat or to pick up a comic.
Special thanks to Sian Davies, Ryan Kift, Arfon Jones, Beth Jones, AJ Ballard and Amy Adams.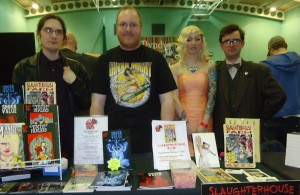 ---
Signed copies of Slaughterhouse Farm now available for preorder!
TUESDAY 23RD APRIL AT 8:15PM |

NO COMMENTS
Good news! The first issue of Slaughterhouse Farm, the horrific 24 page new comic book from Hellbound Media, is now available for pre-order! Visit www.hellboundmedia.co.uk to order your copy.
All pre-orders received before midnight on Friday, April 27, will be signed by the Slaughterhouse Farm creative team of Matt Warner, AJ Ballard and Arfon Jones at the comic's launch at the Wales Comic Con on Sunday, April 28. This is the only time Matt, Arfon and AJ are due to be at the same event this year so fully signed copies will be limited. The signed comics will then be dispatched on Monday, April 29.
Thanks again to the awesome Nikki Foxrobot for lettering the book, Steven Denton for colouring the cover, and to Gene Dolreds Dolders for his work on the Slaughterhouse Farm website. Thanks to Stuart and Hal at UK on Display, to Siân for bringing the blood-soaked bride to life, and Arfon Edwards and Gaynor Thomas for the photoshoot.
Finally, a big thanks to Ryan Kift, Paul Kane, Spencer Wilding, Lee Grice, Trystan Mitchell, Nathan Head and Steve Tanner for reading the comic and providing back page quotes.
Hope everyone else enjoys it!
But be warned, over 18s who are not easily offended only please as the comic contains scenes of graphic violence, sexual scenes and bad language.
---
Wales Comic Con in Wrexham
SATURDAY 20TH APRIL AT 7:53PM |

NO COMMENTS
Hellbound Media's next convention appearance will be the Wales Comic Con in Wrexham on Sunday, April 28. We'll be selling all our titles Kiss Me Deadly, Shock Value Red and Blue, Mandy and the Monster, Faith Healers and Night Craft as well as launching the brand new horror comic Slaughterhouse Farm.
In attendance will be Hellbound co-founders Mark Adams and Matt Warner as well as Slaughterhouse Farm co-writer AJ Ballard and artist Arfon Jones. Prints of alt model Sian from the recent Slaughterhouse photoshoot will also be available.
Details on a special pre-order offer for Slaughterhouse Farm early next week.
---
Signing at Comic Guru
MONDAY 15TH APRIL AT 9:50PM |

NO COMMENTS
Had good signing session at the Comic Guru, Cardiff, on Saturday where several people picked up our new anthology Shock Value Blue. Now we're gearing up for the Wales Comic Con in Wrexham on April 28.