"Death Head Valley II" Launches
SUNDAY 31ST JANUARY AT 11:58PM |

NO COMMENTS
CONNOR FINLAYSON IS REAL.
No longer a thing of speculation and myth, the monster that stalks the Death Head Valley carries on his deadly duties; taking the lives of those who wander into his domain. Forces in the valley are asking for sacrifices… whispering a single demand to Connor…
BLOOD MUST FLOW!
Ignorant to the massacre that occurred the night before, more hapless victims offer themselves up to the lumbering horror that stalks the valley. A couple at their breaking point, a family tearing themselves apart, and a handful of teens hoping for the summer of a lifetime. Nobody is safe and there will be no mercy.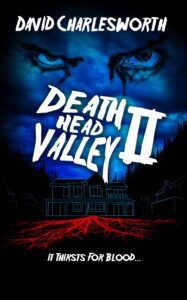 The sequel to Hellbound Media's first prose release, the eighties-inspired slasher novella "Death Head Valley" written by David Charlesworth is here! Following a successful Kickstarter and launch, the book has been sent to backers and now it's coming to a wider audience via Kindle digital editions or print copies direct from us at Hellbound Media. "Death Head Valley II" is a 136 page gore fest that sees the unstoppable juggernaut Connor Finlayson slaughter any who enters his valley. Who will survive? And will they learn the terrible secret at the heart of Death Head Valley?
You can Pre-Order the Kindle version direct from David Charlesworth here.
Or make your way to our web store for the physical print edition here.