"The Legend of the Spindly Man" #3 Kickstarter & Comic Con News
WEDNESDAY 29TH AUGUST AT 4:40PM |
POSTED BY ELLE BOUND
Additional Note: Sorry everyone, this post should have been up weeks ago, but was sat in Draft form! There's 48 hours left to back our new Kickstarter if you're interested!
We've had a fantastic start to 2018, with some awesome Comic Cons, and the successful launch of the new "Mandy the Monster Hunter" mini series, "The Legend of the Spindly Man". Launching at True Believers Comic Con, "Chapter One: The Shadow of the Spindly Man" has been a popular seller at each Convention we've attended, and this April and May we have a whole host of them.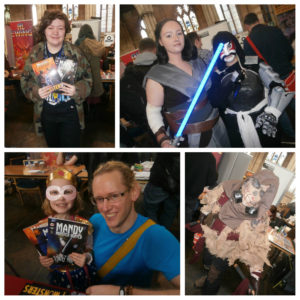 Our last event was the free Manchester Reading & Comics Festival at Manchester Central library which was a lot of fun!
We're also currently running the Kickstarter for the THIRD issue of "The Legend of the Spindly Man" with many other awesome extras, rewards and opportunities available.. or you can just pre-order the comic and help support Indie Comics! You can check out the Kickstarter but clicking the preview images below or following this link: https://www.kickstarter.com/projects/hellboundmedia/spindly
Upcoming cons also include Coventry Comic Con, Leeds Thought Bubble Comic Festival, Blackburn Horror Con, Nottingham Comic Con, London MCM Comic Con, and hopefully many more. We always aim to attend events throughout the UK, so we hope we'll see you at one soon!
---