CLOWNFACE – Debut Feature Film
TUESDAY 12TH SEPTEMBER AT 12:39AM |

NO COMMENTS
Hellbound Media are pleased to announce we have started our first Horror Feature Film – CLOWNFACE. Produced by Mark Adams of Hellbound Media, Clownface is written and directed by Alex Bourne. Check out the gory glory on its kickstarter campaign, linked below, for further details!
---
SHOCK VALUE Kickstarter and 2017…
FRIDAY 5TH MAY AT 2:36PM |

NO COMMENTS
We've been as busy as ever at Hellbound Media, kicking off the 2017 con season in style and meeting some awesome comic fans, film fanatics and cosplayers cross the country. You can follow our adventures on our Facebook page at www.facebook.com/hellboundmedia for all the latest news and updates.
The big news now is the return of our popular horror anthology series Shock Value with a fourth stand alone volume, "Shock Value: Giallo" that takes its inspirations from Italian horror and cult cinema. The book has 8 days left to go on Kickstarter where it has hit its first Stretch Goal – backing now can land you some exclusive Hellbound Media goodies as well as having yourself immortalised in print in the Special Thanks wall. Click the image below to check out the campaign, please share and support!
Our next big convention of the year will be UKHorrorCon in Rotherham / Sheffield, with some amazing horror guests in attendance. We'll also be at Cardiff Independent Comic Expo, Thought Bubble Leeds and MCM London! A full list of the years cons will be on our Facebook and this site shortly.
---
2016 at Hellbound Media… so far!
MONDAY 21ST MARCH AT 4:01PM |

NO COMMENTS
A brief update following a hugely busy start to 2016 for Hellbound Media. We've just finished a potentially mind-draining run of three conventions in a row, visiting Cardiff Film & Comic Con, MCM Liverpool and MCM Birmingham. We've had an amazing time and met many superb people! A huge thank you to everyone who picked up a book from us, and to those who shared their awesome Cosplays with us. Our Cosplay Gallery can be found on our Facebook page.
We'll be updating again shortly, to let you know the next cons we will be visiting this year as well as news about our next new, exciting title, a horrific horror one-shot, and Hellbound Media's first full-colour title!
---
Mandy the Monster Hunter – THANKS!
TUESDAY 24TH NOVEMBER AT 5:07PM |

NO COMMENTS
As many of you will be aware this November we have launched our long-awaited follow-up to "Mandy and the Monster", our best-selling title. Branded under the "Mandy the Monster Hunter" name, we've released "The Mandy Book of Monsters" thanks to YOUR support, on kickstarter and beyond! The title will be appearing on our web store very soon.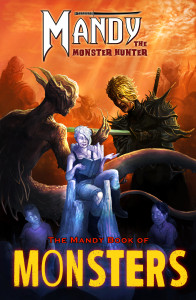 This title has kept us busy and we're delighted to finally have it released – and with more Mandy already on its way! Anyway, without further delay, a huge thanks to everyone who supported us!
SPECIAL THANKS TO:
Steve Tanner
Dave Hastings
James McCulloch
Jonny Hart
David Waddington
Genki Gear
Johan Gutierrez
Pierre Seith Sanchez
Paul J Fleming
Christopher Brett Bianchi
Ashley the con man Mansfield
Aaron Haley
Nicola Smith
The Honorable Mr Haley
Erika Cross
Mark Hetherington
Michael "Buck" Kramer
Deadstar Publishing
Timothy Farr
Vicki Cummins
The Great Escape
Nicholas Vince
Richard & Wendy Adams
Laura Cummins
Mersey ComicCon
John A. Short
David McCluskey
Owen Rickard
Jon Lock
Tom Adams
Arfon Jones
Lisa Snoeks
Thomas M Charles
Comic Expo
---
Hellbound Media – 2015 So Far
SATURDAY 27TH JUNE AT 10:53PM |

NO COMMENTS
Happy New Year… a little late but Hellbound Media have been really busy with this year seeing the launch of three new titles, as well as more cons than ever before.
You might have already caught us in Bolton, Wigan, Folkestone, Liverpool, and more. Today we had a great time at Cardiff Independent Comic Expo, and caught up with a ton of amazing people! This year we have seen some epic Cosplayers, and there's a selection of those we met below:
Our Facebook page features many more of you guys, and your amazing cosplays. We also have a ton more cons coming this year and some new titles to announce. Keep up to date with our Facebook with the latest news!