WEDNESDAY 1ST FEBRUARY AT 3:00PM |

3 COMMENTS
She is the whisper on the playground. When kids draw the monster that lurks under their bed, Mandy the monster hunter will be there.
Mandy the Monster Hunter returns in her first full length and full colour graphic novel. This time things are not what they seem, and in order to help the young Nola, Mandy must confront the greatest challenge of her career. Can she discover what secret lurks behind… the Face in the Curtain?
Written by Matt Warner.
Art by Atlantisvampir, Capucine Drapala.
Lettering by Nikki Foxrobot.
---
TUESDAY 24TH NOVEMBER AT 5:07PM |

NO COMMENTS
As many of you will be aware this November we have launched our long-awaited follow-up to "Mandy and the Monster", our best-selling title. Branded under the "Mandy the Monster Hunter" name, we've released "The Mandy Book of Monsters" thanks to YOUR support, on kickstarter and beyond! The title will be appearing on our web store very soon.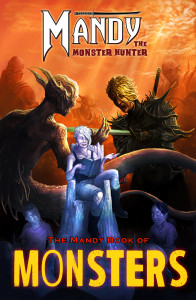 This title has kept us busy and we're delighted to finally have it released – and with more Mandy already on its way! Anyway, without further delay, a huge thanks to everyone who supported us!
SPECIAL THANKS TO:
Steve Tanner
Dave Hastings
James McCulloch
Jonny Hart
David Waddington
Genki Gear
Johan Gutierrez
Pierre Seith Sanchez
Paul J Fleming
Christopher Brett Bianchi
Ashley the con man Mansfield
Aaron Haley
Nicola Smith
The Honorable Mr Haley
Erika Cross
Mark Hetherington
Michael "Buck" Kramer
Deadstar Publishing
Timothy Farr
Vicki Cummins
The Great Escape
Nicholas Vince
Richard & Wendy Adams
Laura Cummins
Mersey ComicCon
John A. Short
David McCluskey
Owen Rickard
Jon Lock
Tom Adams
Arfon Jones
Lisa Snoeks
Thomas M Charles
Comic Expo