By Series
---
By Release Date
---
By Writer
---
By Artist
---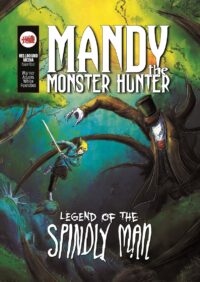 £5.00

MANDY THE MONSTER HUNTER: THE LEGEND OF THE SPINDLY MAN #4
---
Description
How do you kill a story?

The legend of the Spindly Man continues, and he becomes more powerful as the fear spreads. Mandy the Monster Hunter heads into the woods for a final confrontation in the last part of this acclaimed mini series. Can her final gambit succeed or is this the end for Mandy?
"Writers Matt Warner and Mark Adams again show how finely tuned they are at writing Mandy by this point; managing to bring a maturity to the message of Legend of the Spindly Man while not losing any of the child-like wonder that Mandy and her stories so often serve up." – Starburst
Written by Matt Warner & Mark Adams.
Art by Lyndon White.
Lettering by Nikki Foxrobot.
---
Related Comics