By Series
---
By Release Date
---
By Writer
---
By Artist
---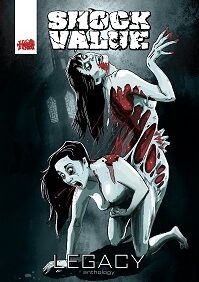 £10.00

SHOCK VALUE LEGACY VAMPIRE EDITION
By:
Arfon Jones
,
Atlantisvampir
,
Atlantisvampir
,
C L Raven
,
Cristian D Navarro
,
Dave Clifford
,
David Charlesworth
,
Ilan
,
James Gray
,
KitsuneArt
,
Lyndon White
,
Mark Adams
,
Matt Warner
,
Paul Johnson
,
Paul Johnson
,
Roy Huteson Stewart
Pages:
92
Published:
1st June 2020
---
Description
Werewolves. Vampires. Monsters. Hellbound Media presents a collection of terrifying tales that find their inspiration in the very origins of the horror genre. We look back to the stories and films that introduced the world to a coterie of classic monsters, and explore the legacy of fear they have left behind. Each of the stories in this collection features a contemporary twist on this gothic past, promising to continue the nightmares for centuries to come.
The new, 92-page horror anthology from Hellbound Media, featuring a range of artists both returning and new. Artists include Lyndon White ('Legend of the Spindly Man') Atlantisvampir ('The Face in the Curtain'), James Gray ('Brawler'), whilst Guest Writers include horror authors C. L. Raven ('Silent Dawn') making their comic debut.

" The stories are not only mature in the content but also in the themes as we get to explore stories of life, despair, murders, greed, love, lust, violence, disease, and death". – Everything Horror Podcast
Edited by Mark Adams & Matt Warner
Written by Mark Adams, Matt Warner, C. L. Raven, Atlantisvampir, & Paul Johnson
Art by Atlantisvampir, James Gray, Arfon Jones, Roy Huteson Stewart, Paul Johnson, KitsuneArt, Gabriel Baltazar, David Charlesworth, Cristian D. Navarro, Lyndon White, Dave Clifford, & Ilan Sheady.
Lettering by Nikki Foxrobot.
---
Related Comics