By Series
---
By Release Date
---
By Writer
---
By Artist
---
Dawn Keenan is Dublin's only vampire hunter. She isn't the chosen one nor does she have guns and the understanding that a vampire is less effective if it has no kneecaps or half of its face has been blown off.
Armed with her guns and a vocabulary that would make a sailor blush, Kiss Me Deadly sees Dawn embarks on the biggest mystery of her vampire hunting career. There are bullets, bad language and thrills on her journey which ends in a shocking and bloody climax.
By the end of this two-parter you'll understand why vampires in Dublin fear Dawn.
Kiss Me Deadly, the first of the Dawn Keenan Chronicles, is written by Matt Warner with art by US artist Jesse Thomas and covers by acclaimed fantasy artist Gordon Napier.

DAWN AFTER DARK: KISS ME DEADLY
March 2015
Meet Dawn Keenan - a foulmouthed vampire hunter from Dublin. With guns.
---

KISS ME DEADLY #2
November 2011
The epic conclusion to the first Dawn Keenan story.
---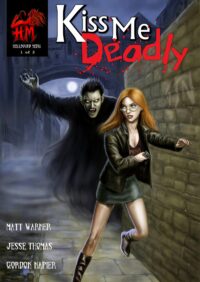 KISS ME DEADLY #1
May 2011
Dublin's very own foul-mouthed vampire hunter faces an undead conspiracy. Armed with knives, guns and a traditional wooden stake, Dawn is ready for anything...
---