By Series
---
By Release Date
---
By Writer
---
By Artist
---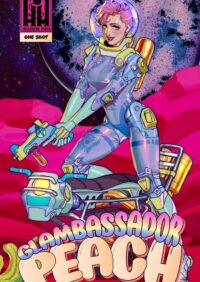 £20.00

GLAMBASSADOR PEACH (18+)
---
Description
Glambassador Peach is an inclusive sci-fi smut adventure that sees earth's premier sex worker protect the planet from extinction. Once onboard a mysterious alien vessel, Pixie Peach must help Navigator X find their true design so they can complete their journey. To do this Pixie must suck, f**k and jerk everything the universe has to offer – including pandroids, gynaesaurs, tentacled tantalisers, merfolk, and fragrant flornicators.  
After agreeing to the mission, Pixie Peach allows herself to be taken for the ride of her life aboard the Fake Transit Pod where she encounters the adaptable Pandroid and the thrice endowed TriCock.
Pixie Peach encounters her host Navigator X for the first time and they embark on their sensual journey of self-discovery.
This comic is explicit and should only be purchased by people aged 18+.
 
Written by Matt Warner & Various
inspired by Pixie Peach
Art by Various
Cover by C. Bedford
Lettering by Nikki Foxrobot.
---
Related Comics