By Series
---
By Release Date
---
By Writer
---
By Artist
---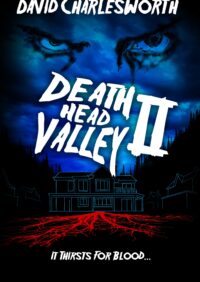 £5.00

DEATH HEAD VALLEY II (NOVELLA)
---
Description
CONNOR FINLAYSON IS REAL.
No longer a thing of speculation and myth, the monster that stalks Death Head Valley carries on his deadly duties; taking the lives of those who wander into his domain. Forces in the Valley are asking for sacrifices… whispering a single demand to Connor…
BLOOD MUST FLOW!
Ignorant to the massacre that occurred the night before, more hapless victims offer themselves up to lumbering horror that stalks the valley. A couple at their breaking point, a family tearing themselves apart, and a handful of teens hoping for the summer of their lifetime. Nobody is safe and there will be no mercy.
Retro slasher DEATH HEAD VALLEY II ups both the ante and the gore. Out of the shadows and unleashed, Connor Finlayson has arrived and NOTHING can prepare you for brutality he's bringing with him.
Rated 18 / NC-17
Written by David Charlesworth.
Cover Art by FromTheShadowsLtd.

---
Related Comics