TUESDAY 24TH NOVEMBER AT 5:07PM |

NO COMMENTS
As many of you will be aware this November we have launched our long-awaited follow-up to "Mandy and the Monster", our best-selling title. Branded under the "Mandy the Monster Hunter" name, we've released "The Mandy Book of Monsters" thanks to YOUR support, on kickstarter and beyond! The title will be appearing on our web store very soon.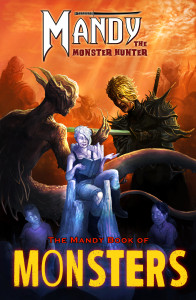 This title has kept us busy and we're delighted to finally have it released – and with more Mandy already on its way! Anyway, without further delay, a huge thanks to everyone who supported us!
SPECIAL THANKS TO:
Steve Tanner
Dave Hastings
James McCulloch
Jonny Hart
David Waddington
Genki Gear
Johan Gutierrez
Pierre Seith Sanchez
Paul J Fleming
Christopher Brett Bianchi
Ashley the con man Mansfield
Aaron Haley
Nicola Smith
The Honorable Mr Haley
Erika Cross
Mark Hetherington
Michael "Buck" Kramer
Deadstar Publishing
Timothy Farr
Vicki Cummins
The Great Escape
Nicholas Vince
Richard & Wendy Adams
Laura Cummins
Mersey ComicCon
John A. Short
David McCluskey
Owen Rickard
Jon Lock
Tom Adams
Arfon Jones
Lisa Snoeks
Thomas M Charles
Comic Expo
---
THURSDAY 27TH MARCH AT 9:53PM |

NO COMMENTS
We've confirmed our table booking this week for Nottingham Comic Con on October 4. Last year this con debuted as NerdFest and was one of the most enjoyable events of 2013.
We should have two more conventions confirmed in the next couple of weeks and then we'll post a definitive list of Hellbound's remaining appearances for 2014 – there's quite a lot.
---
SUNDAY 2ND FEBRUARY AT 12:47PM |

NO COMMENTS
Hellbound Media will be representing at the following comic conventions this year:
March 1&2 – Cardiff Film and Comic Con
April 27 – Wales Comic Con
May 10&11 – Bristol Comic Expo
June 22 – Wigan Comic-Con
August 2 – ICE – The International Comics Expo Britain's Coolest Comic Convention
August 30&31 – Melksham Comic-Con
We hope to be adding more later in the year as dates are confirmed.
---
SATURDAY 26TH JANUARY AT 1:37PM |

NO COMMENTS
Now that we're settled into 2013, we can look ahead to conventions that Hellbound Media will be attending in first half of the year:
1. Cardiff International Comic Expo, March 2&3
2. Wales Comic Convention, April 28
3. Bristol Comic and Small Press Expo, May 11&12
We hope to have a new comic to launch at most if not all of these events.