SUNDAY 23RD MARCH AT 4:16PM |

NO COMMENTS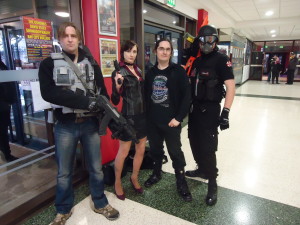 We at Hellbound Media had a great time at the Cardiff Film and Comic Con this month. Our most successful con to date and it was great chatting to everyone who stopped by at our table – including Lee Meriwether (Catwoman).
Our next convention is also in Wales, the popular Wales Comic Con in Wrexham on April 27. There will be a slight change of Hellbound line-up for this con, but artist Arfon Jones will be there with writer/editor Matt Warner so its a great opportunity to get signed copies of Slaugherhouse Farm #1.
---
SUNDAY 2ND FEBRUARY AT 12:47PM |

NO COMMENTS
Hellbound Media will be representing at the following comic conventions this year:
March 1&2 – Cardiff Film and Comic Con
April 27 – Wales Comic Con
May 10&11 – Bristol Comic Expo
June 22 – Wigan Comic-Con
August 2 – ICE – The International Comics Expo Britain's Coolest Comic Convention
August 30&31 – Melksham Comic-Con
We hope to be adding more later in the year as dates are confirmed.
---
MONDAY 15TH APRIL AT 9:50PM |

NO COMMENTS
Had good signing session at the Comic Guru, Cardiff, on Saturday where several people picked up our new anthology Shock Value Blue. Now we're gearing up for the Wales Comic Con in Wrexham on April 28.