SATURDAY 20TH APRIL AT 7:53PM |

NO COMMENTS
Hellbound Media's next convention appearance will be the Wales Comic Con in Wrexham on Sunday, April 28. We'll be selling all our titles Kiss Me Deadly, Shock Value Red and Blue, Mandy and the Monster, Faith Healers and Night Craft as well as launching the brand new horror comic Slaughterhouse Farm.
In attendance will be Hellbound co-founders Mark Adams and Matt Warner as well as Slaughterhouse Farm co-writer AJ Ballard and artist Arfon Jones. Prints of alt model Sian from the recent Slaughterhouse photoshoot will also be available.
Details on a special pre-order offer for Slaughterhouse Farm early next week.
---
MONDAY 15TH APRIL AT 9:50PM |

NO COMMENTS
Had good signing session at the Comic Guru, Cardiff, on Saturday where several people picked up our new anthology Shock Value Blue. Now we're gearing up for the Wales Comic Con in Wrexham on April 28.
---
FRIDAY 8TH MARCH AT 11:04PM |

NO COMMENTS
Hellbound Media enjoyed a great weekend at the Cardiff Comic Expo. Despite the one downside of our location at the event we actually had our most successful convention to date. This was mainly due to the launch of our new prestige anthology Shock Value Blue. Editors Matt Warner and Mark Adams were on hand to sign copies and the feedback has been really good.
Our friends at The Great Esc also enjoyed a successful launch of their new anthology Great Escapes, edited by Chrissey Harrison.
We met old friends like Kat Wilson, David Powell, Deadstar, Bearded Skull and Steve Tanner as well as making some new ones. Some progress was made on future Hellbound projects – more details soon.
---
SATURDAY 26TH JANUARY AT 1:39PM |

NO COMMENTS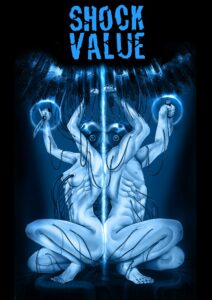 Shock Value Blue is the second anthology from Hellbound Media.
This prestige format comic will be launched at the Cardiff International Comic & Anime Expo on March 2&3.
It contains six dark horror stories, including a brand new Mandy the Monster Hunter story by the Mandy and the Monster creative team of Matt Warner, Anna Susanne and Nikki Foxrobot.
The book is an opportunity for UK comic fans to read the award-winning strip Incandescence by Italian comic creator Atlantisvampir as well as her graphic new strip Amen.

The anthology also features Thy Father Lies; a tale of terror beneath the sea by Hellbound Media co-founder Mark Adams and Anna Susanne.

All this and an original stand-alone taster tale of Slaughterhouse Farm, by Matt Warner, AJ Ballard, Arfon Jones and Nikki Foxrobot, a grimy and bloody 70s slasher inspired horror set in North Wales, to be launched by Hellbound Media in April 2013.