SUNDAY 23RD MARCH AT 4:16PM |

NO COMMENTS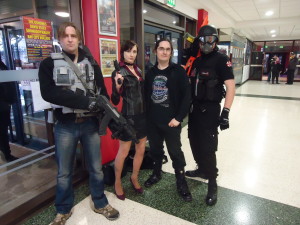 We at Hellbound Media had a great time at the Cardiff Film and Comic Con this month. Our most successful con to date and it was great chatting to everyone who stopped by at our table – including Lee Meriwether (Catwoman).
Our next convention is also in Wales, the popular Wales Comic Con in Wrexham on April 27. There will be a slight change of Hellbound line-up for this con, but artist Arfon Jones will be there with writer/editor Matt Warner so its a great opportunity to get signed copies of Slaugherhouse Farm #1.