Hellbound Media at Comic Guru, Cardiff on the 1st September
SATURDAY 25TH AUGUST AT 10:46PM |
POSTED BY HELLBOUND MEDIA
Hellbound Media editors Mark Adams and Matt Warner will be taking part in a comic signing session at The Comic Guru Comic shop in Cardiff from 11am on Saturday, September 1.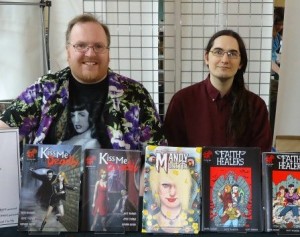 On sale will be four of Hellbound Media's horror titles: Kiss Me Deadly, Faith Healers, Shock Value and the latest one shot Mandy and the Monster that is reviewed in this month's SFX magazine.
Kiss Me Deadly is the first blood-drenched adventure of Dublin's only vampire hunter, Dawn Keenan. She isn't the chosen one nor does she have guns and the understanding that a vampire is less effective if it has no kneecaps or half of its face has been blown off. Kiss Me Deadly, the first of the Dawn Keenan Chronicles, is written by Matt Warner with art by US artist Jesse Thomas and covers by acclaimed fantasy artist Gordon Napier.Created by Mark Adams and Matt Warner, Faith Healers is an action horror comic about a group nurses. But these nurses are the descendants of angels (and in one case demons) and offer help to those conventional medicine cannot. And that help invariably ends up with them fighting demons or other nasties. The début story of Faith Healers, The Company of Angels, is told over two action-packed issues with art by Tony Emson.
Shock Value 1 is the first anthology from Hellbound Media. With contributors from the USA, Denmark, Sweden and the UK it is a truly international affair. The anthology contains a wide range stories including sci-fi with a dark twist, a tale of urban terror and an atmospheric ghost story.
In Mandy and the Monster, Mandy is the hero that children call on when grown ups dismiss their talk of monsters as daydreams and make believe. Hers is the name that is whispered in the playground. She is the thing that make the things you are afraid of tremble. After her début in the Hellbound Media anthology Shock Value, Mandy appears in her first full-length adventure. And this time the threat is bigger that the monster under the bed.
Mandy and the Monster is written by Matt Warner with stunning artwork by Swedish artist and sculptor Anna Pennlund.
The Comic Guru is situated at 13 Wood Street, Cardiff.
---