Glambassador Peach!
SUNDAY 27TH MARCH AT 9:24PM |

NO COMMENTS
"When the Earth needed a real fucking hero, she came. Again. And again".
Hellbound Media are branching out with a new Kickstarter that is live now! We've been known for horror, dark fantasy, and action, but this is a first for us – a diverse and inclusive science-fiction smut comic that is definitely only for our older readers! That said, it could certainly be described as "Clive Barker meets Barbarella" as Earth's premier sex worker fights for humanities survival through a series of erotic encounters.
If you want to check out the campaign, you can do so here: https://www.kickstarter.com/projects/hellboundmedia/glambassadorpeach 
But we're not all smut, Hellbound have plenty of all ages material as well as adult horror, including the new "Mandy the Monster Hunter" anthology "The Mandy Book of Sea Monsters" and the film-tie-in "Clownface: Mask of Terror". These any many other books will be available this coming weekend April 2nd and 3rd at Wales Comic Con Telford Takeover… we hope to see you there.
You might also notice our awesome new logo designed by Ilan Sheady. We're working to update the site to reflect the developments in our brand soon! Stay safe and see you at comic con!
---
2022 – Wales Con Telford Takeover April 2/3
FRIDAY 25TH MARCH AT 12:05AM |

NO COMMENTS
Welcome everyone! We're just posting a quick update to let you know Hellbound Media are still pressing forward with our 2022, with new Kickstarters, new Comic Cons and someexciting projects to announce. Our website is being updated and this is the first in a series of posts as we up date and let you know all the latest information from Team Hellbound!
Expect a big update tomorrow, but for now we're delighted to announed we'll be at Wales Con Telford Takeover this April – we hope to see you there!
---
"Death Head Valley II" Launches
SUNDAY 31ST JANUARY AT 11:58PM |

NO COMMENTS
CONNOR FINLAYSON IS REAL.
No longer a thing of speculation and myth, the monster that stalks the Death Head Valley carries on his deadly duties; taking the lives of those who wander into his domain. Forces in the valley are asking for sacrifices… whispering a single demand to Connor…
BLOOD MUST FLOW!
Ignorant to the massacre that occurred the night before, more hapless victims offer themselves up to the lumbering horror that stalks the valley. A couple at their breaking point, a family tearing themselves apart, and a handful of teens hoping for the summer of a lifetime. Nobody is safe and there will be no mercy.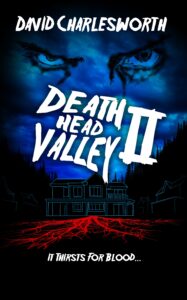 The sequel to Hellbound Media's first prose release, the eighties-inspired slasher novella "Death Head Valley" written by David Charlesworth is here! Following a successful Kickstarter and launch, the book has been sent to backers and now it's coming to a wider audience via Kindle digital editions or print copies direct from us at Hellbound Media. "Death Head Valley II" is a 136 page gore fest that sees the unstoppable juggernaut Connor Finlayson slaughter any who enters his valley. Who will survive? And will they learn the terrible secret at the heart of Death Head Valley?
You can Pre-Order the Kindle version direct from David Charlesworth here.
Or make your way to our web store for the physical print edition here.
---
Happy Hallowe'en 2020!
MONDAY 26TH OCTOBER AT 9:17AM |

NO COMMENTS
"Five more days 'til Halloween, Halloween, Halloween,
Five more days 'til Halloween, Silver Shamrock!"
Hellbound's favourite time of year is here and right now we should be coming home from the season London MCM Comic Con, but alas that has not been the case. We're missing everyone at the comic scene, whether our friends in the industry, or the amazing people, fans, cosplayers, and furries that make the events as fun as they are. Fear not though because Hellbound can be heard on today's Awesome Comics Podcast discussing all things creepy – check it out as it goes live later today!
https://awesomecomics.podbean.com/
Not only are we still chatting horror, we're making it. Follow our Twitter and Facebook for a horrific COUNTDOWN to Hallowe'en with some previews of upcoming projects. Our second prose release, David Charlesworth's DEATH HEAD VALLEY II is also coming together for its launch to our kickstarter backers, before making its way on our web store.
We're also celebrating with our Halloween Hellbound 13 Box which features, you guessed it, thirteen of our titles in one box shipped out, the perfect introduction to the world of Hellbound Media.
This box offers you 13 of our titles for a ridiculously low price, as well as a few extras thrown in as well for anyone wanting to pick one up! The content individually, not including postage, would cost a huge £84, but we're offering this box at only £40 plus p&p, over HALF PRICE! This Box offer will last until the end of the Halloween weekend or in the unlikely case that we run out of the limited run of bundles.
Note: Whilst we can offer this internationally, due to recent changes in UK, the postage is sadly ridiculous for a big package. We have left the opportunity for it but apologise that it essentially doubles the cost.
So, have a fantastic Halloween, and wherever you are, and whatever the rules allow you to do, keep scary, and keep safe!
---
Latest Horror Anthology "Shock Value: Legacy" launches online!
SUNDAY 28TH JUNE AT 5:15PM |

NO COMMENTS
"Finally, once again we are delighted announce we'll be kicking our our 2020 Comic Con circuit with  Cheletenham's True Believers Comic Con. The event will be on Saturday 1st February, and we hope to see you there! If not, you can find us at most MCM Comic Con's, Wales Comic Con: Telford Takeover, "Something Wicked" Horror Con UK, and more. We can't wait to share our horrifying visions with you."
Innocent words from the start of the year! We did indeed attend True Believers, but rather than the first con of the year, it's looking increasingly likely to also be our last! Alas Covid-19 has struck the country badly, and indeed, hit some of the Hellbound team personally. But we've fought on, and whilst we may be delayed we won't be defeated.
With no Comic Con launch available, we've put our latest horror anthology, "Shock Value: Legacy" straight out on our website store for you to pick up. Featuring a range of tales from a wealth of talent, including horror authors C L Raven, "Slaughterhouse Z" artist Paul Johnson, and "Legend of the Spindly Man" artist Lyndon White, among many others!
Not only do we have the three covers of the new book on offer, a special bundle of previous "Shock Value" comics is coming for a limited time. Check out the cover below, and go to our shop to see the two limited edition covers also currently available"! We thank you for your continued support, and hope to meet again at a comic event in the near future!
BUY SHOCK VALUE: LEGACY ONLINE