TUESDAY 15TH NOVEMBER AT 3:00PM |

NO COMMENTS
Hellbound Media have had an amazing 2016, our best year yet and the perfect celebration of over 5 years in the small press scene. We couldn't have done it without the support and help of our contributors, others in the small press business and, of course, those who pick up and enjoy our comics! A huge thanks to everyone.
We've been visiting numerous comic cons this year, with next weekend seeing us in the Comic Village at MCM Birmingham, with a small but special Wigan Comic Con rounding us off in December. Check our Facebook for the Cosplay Galleries, and we will endeavour to share some of our favourites on this blog going forward.
The final blood-soaked issue of "Slaughterhouse Farm" is being lettered, for release this November, following a successful kickstarter to help cover the printing costs. We aim to make further use of funding platforms as a form of pre-order on our titles, allowing Hellbounders to obtain great rewards, and support us. As push to produce stronger, and more polished titles, costs go up and this is one way we can bring you the very best work possible.
Following a hugely successful year of "The Mandy Book of Monsters", "Mandy the Monster Hunter" will be returning early 2017 with her first epic adventure, "The Face in the Curtain". This isn't all as there's some exciting news for Mandy fans which we'll be sharing soon.
Next year will see titles new and old, as the"Shock Value" anthology series returns, and a new "Dawn After Dark" graphic novel follows up the successful "Kiss Me Deadly". Thanks again for all your support, and we hope to see you at a Comic Con soon!
---
SUNDAY 15TH MAY AT 11:06PM |

NO COMMENTS
Our newest title, 'Shock Value presents… The Disease' is coming soon thanks to the generous Kickstarter community, and below you'll find a list of everyone who helped make it happen. Thanks everyone!
Dino Maglaris
Lore Media Corporation
XxTattooMattxX
Ivan Donati
Faye Simms
Stefan Hamann
Deadstar Publishing
Stuart Gould
Steve Tanner
Shaun Hastings
Victor Wright – Geeky Comics
Esther Mullings
Erik Hofstatter
Scott Sysol
Jenny Ashcroft
James Edward Reed
Rob Ryan
Winston Kou
James Nettles
Mika Koyyka
Mark Hetherington
Jean-Luc Reyes
JordanCookFILMS
Simon Blanchett-Parker
James Azrael / The HSPPA
Reed Andrus
Anthony Bagley
Maz Johnson
James McCulloch
Helen Brannigan
Curtis Smith
Comichaus
Dennis Strasburg
Jon Radigan
Matthew Brown
Jonathan Kui
Nick Ashby
James Ferguson
John A. Short
Stefan Simovic
Joyce Ann Garcia
John Linwood Grant
Robert Flores
Haley McDonald
Slocko Flyde Coast Comics
Karl Andrews
Arthur Digby Sellers
Omar Pineda
kurokun
Neil Ashworth
Daniel Farrand
Ant O'Reilly
Fifth Dimension Comics
Tom Spellman
Matt Warner
Jake Shellenberger
Dino Maglaris
Anthony Ball
Peter Raber
Andrew Lee
Lukasz Michalski
Brian Dell
Ivan Donati
Richard Anderson
Pippa Bailey
Derogan
Hope C
Thanks again!
---
MONDAY 21ST MARCH AT 4:01PM |

NO COMMENTS
A brief update following a hugely busy start to 2016 for Hellbound Media. We've just finished a potentially mind-draining run of three conventions in a row, visiting Cardiff Film & Comic Con, MCM Liverpool and MCM Birmingham. We've had an amazing time and met many superb people! A huge thank you to everyone who picked up a book from us, and to those who shared their awesome Cosplays with us. Our Cosplay Gallery can be found on our Facebook page.
We'll be updating again shortly, to let you know the next cons we will be visiting this year as well as news about our next new, exciting title, a horrific horror one-shot, and Hellbound Media's first full-colour title!
---
TUESDAY 24TH NOVEMBER AT 5:07PM |

NO COMMENTS
As many of you will be aware this November we have launched our long-awaited follow-up to "Mandy and the Monster", our best-selling title. Branded under the "Mandy the Monster Hunter" name, we've released "The Mandy Book of Monsters" thanks to YOUR support, on kickstarter and beyond! The title will be appearing on our web store very soon.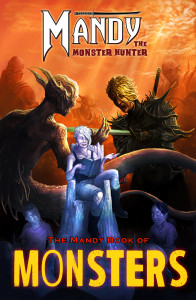 This title has kept us busy and we're delighted to finally have it released – and with more Mandy already on its way! Anyway, without further delay, a huge thanks to everyone who supported us!
SPECIAL THANKS TO:
Steve Tanner
Dave Hastings
James McCulloch
Jonny Hart
David Waddington
Genki Gear
Johan Gutierrez
Pierre Seith Sanchez
Paul J Fleming
Christopher Brett Bianchi
Ashley the con man Mansfield
Aaron Haley
Nicola Smith
The Honorable Mr Haley
Erika Cross
Mark Hetherington
Michael "Buck" Kramer
Deadstar Publishing
Timothy Farr
Vicki Cummins
The Great Escape
Nicholas Vince
Richard & Wendy Adams
Laura Cummins
Mersey ComicCon
John A. Short
David McCluskey
Owen Rickard
Jon Lock
Tom Adams
Arfon Jones
Lisa Snoeks
Thomas M Charles
Comic Expo
---
SATURDAY 27TH JUNE AT 10:53PM |

NO COMMENTS
Happy New Year… a little late but Hellbound Media have been really busy with this year seeing the launch of three new titles, as well as more cons than ever before.
You might have already caught us in Bolton, Wigan, Folkestone, Liverpool, and more. Today we had a great time at Cardiff Independent Comic Expo, and caught up with a ton of amazing people! This year we have seen some epic Cosplayers, and there's a selection of those we met below:
Our Facebook page features many more of you guys, and your amazing cosplays. We also have a ton more cons coming this year and some new titles to announce. Keep up to date with our Facebook with the latest news!