WEDNESDAY 18TH APRIL AT 2:23PM |

NO COMMENTS
We've had a fantastic start to 2018, with some awesome Comic Cons, and the successful launch of the new "Mandy the Monster Hunter" mini series, "The Legend of the Spindly Man". Launching at True Believers Comic Con, "Chapter One: The Shadow of the Spindly Man" has been a popular seller at each Convention we've attended, and this April and May we have a whole host of them.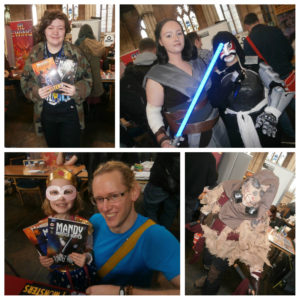 This weekend you can find the Hellbound Media team, along wide honourary member actor Nathan Head, at Wales Comic Con, in Wrexham for their 10th Anniversary event! We'll be alongside horror authors C L Raven and sculptor and fellow creative David V G Davies of From the Shadows.
We're also currently running the Kickstarter for the SECOND issue of "The Legend of the Spindly Man" with many other awesome extras, rewards and opportunities available.. or you can just pre-order the comic and help support Indie Comics! You can check out the Kickstarter but clicking the preview images below or following this link: https://www.kickstarter.com/projects/hellboundmedia/mandythemonsterhunter
Upcoming cons also include Oldham Comic Con, Cardiff Independent Comic Expo, UK Horror Con, London MCM Comic Con, and hopefully many more. We always aim to attend events throughout the UK, so we hope we'll see you at one soon!
---
MONDAY 26TH FEBRUARY AT 1:07PM |

NO COMMENTS
Hellbound Media are kicking off 2018 with some amazing new books and attending some of the best comic conventions in the UK! We've already launched the year with True Believers Comics Festival in Cheltenham, and attended Birmingham Horror Con. We're excited for our next stop at MCM Birmingham where we hope to meet fans new and old, and offer our brand new title "Mandy the Monster Hunter: The Legend of the Spindly Man #1" which you can see a taster of below!
Upcoming cons also include Wales Comic Con, Cardiff Independent Comic Expo, Leamington Comic Con, UK Horror Con, and hopefully many more. We always aim to submit to MCM's across the country so we hope to see you at them too!
---
TUESDAY 12TH SEPTEMBER AT 12:39AM |

NO COMMENTS
Hellbound Media are pleased to announce we have started our first Horror Feature Film – CLOWNFACE. Produced by Mark Adams of Hellbound Media, Clownface is written and directed by Alex Bourne. Check out the gory glory on its kickstarter campaign, linked below, for further details!
---
FRIDAY 5TH MAY AT 2:36PM |

NO COMMENTS
We've been as busy as ever at Hellbound Media, kicking off the 2017 con season in style and meeting some awesome comic fans, film fanatics and cosplayers cross the country. You can follow our adventures on our Facebook page at www.facebook.com/hellboundmedia for all the latest news and updates.
The big news now is the return of our popular horror anthology series Shock Value with a fourth stand alone volume, "Shock Value: Giallo" that takes its inspirations from Italian horror and cult cinema. The book has 8 days left to go on Kickstarter where it has hit its first Stretch Goal – backing now can land you some exclusive Hellbound Media goodies as well as having yourself immortalised in print in the Special Thanks wall. Click the image below to check out the campaign, please share and support!
Our next big convention of the year will be UKHorrorCon in Rotherham / Sheffield, with some amazing horror guests in attendance. We'll also be at Cardiff Independent Comic Expo, Thought Bubble Leeds and MCM London! A full list of the years cons will be on our Facebook and this site shortly.
---
TUESDAY 15TH NOVEMBER AT 3:00PM |

NO COMMENTS
Hellbound Media have had an amazing 2016, our best year yet and the perfect celebration of over 5 years in the small press scene. We couldn't have done it without the support and help of our contributors, others in the small press business and, of course, those who pick up and enjoy our comics! A huge thanks to everyone.
We've been visiting numerous comic cons this year, with next weekend seeing us in the Comic Village at MCM Birmingham, with a small but special Wigan Comic Con rounding us off in December. Check our Facebook for the Cosplay Galleries, and we will endeavour to share some of our favourites on this blog going forward.
The final blood-soaked issue of "Slaughterhouse Farm" is being lettered, for release this November, following a successful kickstarter to help cover the printing costs. We aim to make further use of funding platforms as a form of pre-order on our titles, allowing Hellbounders to obtain great rewards, and support us. As push to produce stronger, and more polished titles, costs go up and this is one way we can bring you the very best work possible.
Following a hugely successful year of "The Mandy Book of Monsters", "Mandy the Monster Hunter" will be returning early 2017 with her first epic adventure, "The Face in the Curtain". This isn't all as there's some exciting news for Mandy fans which we'll be sharing soon.
Next year will see titles new and old, as the"Shock Value" anthology series returns, and a new "Dawn After Dark" graphic novel follows up the successful "Kiss Me Deadly". Thanks again for all your support, and we hope to see you at a Comic Con soon!