MONDAY 28TH JULY AT 11:23AM |

NO COMMENTS
SMALL press comic publisher Hellbound Media is set to launch the third in its popular Shock Value series of horror anthologies in Birmingham this weekend.
Shock Value 3, or Shock Value Green as it is known due to the colour palette of its distinctive cover by Mandy the the Monster artist Anna Pennlund.
The anthology contains comic strips that look, according to Hellbound Media co-founder Mark Adams, "look at the dark side of human nature, exploring both the supernatural and the evil found in human nature itself".
Most of the strips are written by Hellbound Media founders Matt Warner and Mark Adams, with an additional story by guest writer Jamie Lambert of Dexter's Half Dozen fame with art by New Wasteland Fairy Tales creator David Powell. Shock Value Green also features Shock Value's first prose story by Chrissey Harrison.
Shock Value value features Sunday Drive featuring the Dawn Keenan, Hellbound Media's foul-mouthed Dublin vampire hunter character that featured in one of the company's first books, Kiss Me Deadly.
Hellbound Media's mascot Elle Bound also makes her first comic appearance in the rip-roaring adventure tale The Deadstar Diamond.
Hellbound Media's mascot Elle Bound also makes her first comic appearance in the rip-roaring adventure tale The Deadstar Diamond.
Shock Value Green will be launched at ICE at the International Comics Expo in Birmingham on Saturday.
Find out more about Hellbound Media at www.hellboundmedia.co.uk or facebook.com/hellboundmedia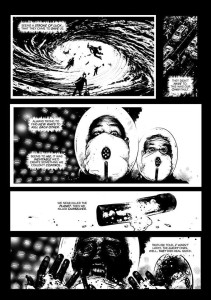 A page from the Shock Value 3 story The Undoing by Mark Adams, Neil McClements and Nikki Foxrobot.
---
SUNDAY 2ND FEBRUARY AT 12:40PM |

NO COMMENTS
---
TUESDAY 23RD APRIL AT 8:15PM |

NO COMMENTS
Good news! The first issue of Slaughterhouse Farm, the horrific 24 page new comic book from Hellbound Media, is now available for pre-order! Visit www.hellboundmedia.co.uk to order your copy.
All pre-orders received before midnight on Friday, April 27, will be signed by the Slaughterhouse Farm creative team of Matt Warner, AJ Ballard and Arfon Jones at the comic's launch at the Wales Comic Con on Sunday, April 28. This is the only time Matt, Arfon and AJ are due to be at the same event this year so fully signed copies will be limited. The signed comics will then be dispatched on Monday, April 29.
Thanks again to the awesome Nikki Foxrobot for lettering the book, Steven Denton for colouring the cover, and to Gene Dolreds Dolders for his work on the Slaughterhouse Farm website. Thanks to Stuart and Hal at UK on Display, to Siân for bringing the blood-soaked bride to life, and Arfon Edwards and Gaynor Thomas for the photoshoot.
Finally, a big thanks to Ryan Kift, Paul Kane, Spencer Wilding, Lee Grice, Trystan Mitchell, Nathan Head and Steve Tanner for reading the comic and providing back page quotes.
Hope everyone else enjoys it!
But be warned, over 18s who are not easily offended only please as the comic contains scenes of graphic violence, sexual scenes and bad language.
---
TUESDAY 23RD APRIL AT 12:37AM |

1 COMMENT
Frankie thought her weekend in the wilds of Snowdonia with a minibus full of troubled teens couldn't get any worse. And then she met HIM. Blood. Death. Pigs. If she makes it out alive, life is never going to be the same again.
Slaughterhouse Farm is a blood-soaked homage to the grindhouse horror classics of the 70s and 80s with a North Wales twist. Created by horror fans for horror fans, this comic does not pull its punches.
Written by Matt Warner and AJ Ballard.
Art by Arfon Jones.
Lettering by Nikki Foxrobot.
---
WEDNESDAY 13TH MARCH AT 11:14PM |

NO COMMENTS