Nottingham Comic Convention
THURSDAY 27TH MARCH AT 9:53PM |

NO COMMENTS
We've confirmed our table booking this week for Nottingham Comic Con on October 4. Last year this con debuted as NerdFest and was one of the most enjoyable events of 2013.
We should have two more conventions confirmed in the next couple of weeks and then we'll post a definitive list of Hellbound's remaining appearances for 2014 – there's quite a lot.
---
Cardiff and on to Wrexham
SUNDAY 23RD MARCH AT 4:16PM |

NO COMMENTS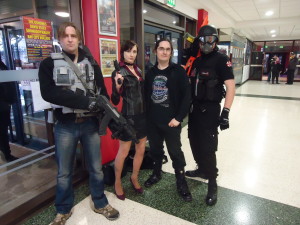 We at Hellbound Media had a great time at the Cardiff Film and Comic Con this month. Our most successful con to date and it was great chatting to everyone who stopped by at our table – including Lee Meriwether (Catwoman).
Our next convention is also in Wales, the popular Wales Comic Con in Wrexham on April 27. There will be a slight change of Hellbound line-up for this con, but artist Arfon Jones will be there with writer/editor Matt Warner so its a great opportunity to get signed copies of Slaugherhouse Farm #1.