TUESDAY 5TH AUGUST AT 10:04PM |

1 COMMENT
---
WEDNESDAY 13TH MARCH AT 11:14PM |

NO COMMENTS
---
SUNDAY 10TH MARCH AT 1:28PM |

NO COMMENTS
Tomorrow, in association with The Great Esc, we're launching a new regular action-horror web comic. Faith Healers: The Flesh Angel is a brand new adventure for Hellbound Media's team of Nephilim (half-angel) medics, known as the Faith Healers.
Faith Healers is an independently published comic series, created by Hellbound Media editors Mark Adams and Matt Warner, and artist Tony Emson.
The webseries sees Mandy and the Monster artist and letter Anna Susanne and Nikki Foxrobot join Matt and Mark to tell a new tale of death, corruption and flesh.
Faith Healers: The Flesh Angel will be updated regularly, and for free, at thegreatesc.com regularly from tomorrow.
---
SATURDAY 26TH JANUARY AT 1:39PM |

NO COMMENTS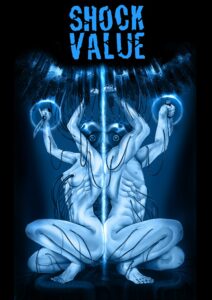 Shock Value Blue is the second anthology from Hellbound Media.
This prestige format comic will be launched at the Cardiff International Comic & Anime Expo on March 2&3.
It contains six dark horror stories, including a brand new Mandy the Monster Hunter story by the Mandy and the Monster creative team of Matt Warner, Anna Susanne and Nikki Foxrobot.
The book is an opportunity for UK comic fans to read the award-winning strip Incandescence by Italian comic creator Atlantisvampir as well as her graphic new strip Amen.

The anthology also features Thy Father Lies; a tale of terror beneath the sea by Hellbound Media co-founder Mark Adams and Anna Susanne.

All this and an original stand-alone taster tale of Slaughterhouse Farm, by Matt Warner, AJ Ballard, Arfon Jones and Nikki Foxrobot, a grimy and bloody 70s slasher inspired horror set in North Wales, to be launched by Hellbound Media in April 2013.