By Series
---
By Release Date
---
By Writer
---
By Artist
---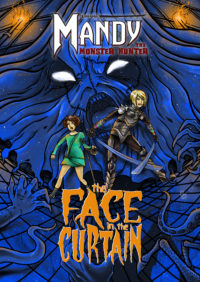 MANDY THE MONSTER HUNTER: THE FACE IN THE CURTAIN
---
Description
She is the whisper on the playground. When kids draw the monster that lurks under their bed, Mandy the monster hunter will be there.
Mandy the Monster Hunter returns in her first full length and full colour graphic novel. This time things are not what they seem, and in order to help the young Nola, Mandy must confront the greatest challenge of her career. Can she discover what secret lurks behind… the Face in the Curtain?
Written by Matt Warner.
Art by Atlantisvampir, Capucine Drapala.
Lettering by Nikki Foxrobot.
---
Related Comics