By Series
---
By Release Date
---
By Writer
---
By Artist
---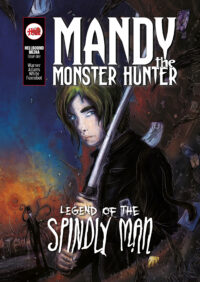 £2.00

MANDY THE MONSTER HUNTER: THE LEGEND OF THE SPINDLY MAN #1 PDF EDITION
---
Description
Digital PDF Edition – File Download will be Emailed to Purchasers
She is the whisper on the playground. She is the thing that the Things in the dark are afraid… until now.

Mandy the Monster Hunter returns in the first part of a haunting new mini series which sees her face the terrifying force of The Spindly Man. As children disappear, Mandy investigates an entity that scares away even the other monsters that lurk in the closet. What is the Spindly Man and can she defeat him?
"Mandy herself is a fearless, fierce champion of the world's youth, and just as fearless and fierce is the bold decision from Matt Warner and Mark Adams to deliver such a truly terrifying villain that genuinely has you questioning how Mandy can topple her latest foe"   – Starburst
Written by Matt Warner & Mark Adams.
Art by Lyndon White.
Lettering by Nikki Foxrobot.
---
Related Comics