By Series
---
By Release Date
---
By Writer
---
By Artist
---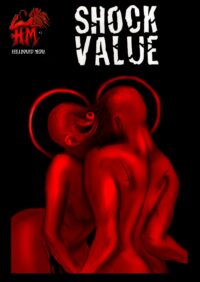 £4.00

SHOCK VALUE RED
---
Description
Get ready for five truly twisted tales from the writers and artists behind 'Mandy & The Monster', 'Faith Healers', 'Night Craft' and much more!
In 'The Monster Under The Bed', by Matt Warner & Anna Pennlund, a little girl can't get to sleep because she's frightened of the monsters her mind keeps conjuring up in the shadows. Trouble is, she's looking in the wrong places.
In 'Boy's Night Out', a vampire gets a shock after a night on the tiles.
In 'The Factory', by Tatiana Goldberg, a nameless soldier, sent in to an abandoned factory to capture a runaway girl, gets more than he bargained for.
In 'Flashmob', by Matt Warner & Roy Stijffey, social networking takes a turn for the macabre.
In 'Lost To Shadows', by Mark Adams & Joseph Saunders, the spirits haunting an old castle reminisce on the stories that have passed there.
Also included is exclusive pin-up art by Anna Pennlund.
"…putting the fun and scares back into horror comics from the ground up…"
– Paul Kane, Author
---
Related Comics