By Series
---
By Release Date
---
By Writer
---
By Artist
---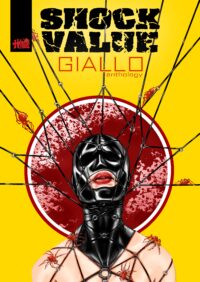 £3.00

SHOCK VALUE GIALLO PDF EDITION
By:
Ahmed Raafat
,
Anna Susanne
,
Atlantisvampir
,
Atlantisvampir
,
Bartolomeo Argentino
,
Ed Machiavello
,
Ilan
,
Jamie Chapman
,
Jamie Keys
,
Luca Cicchitti
,
Mark Adams
,
Matt Warner
,
Neil McClements
Pages:
84
Published:
1st October 2017
---
Description
Digital PDF Edition (download link sent after purchase)
Serial killers, zombies, and demons. All are among the menagerie of the macabre found within this latest horror anthology. Hellbound Media presents a collection of horrific tales inspired by the lurid aesthetic of Italian horror cinema which promises terror, obsession and disturbing horrors beyond description.
The new, 84-page horror anthology from Hellbound Media, featuring a range of artists both old and new. Artists include Atlantisvampir ('Mandy the Monster Hunter: The Face in the Curtain'), Abigail Jill Harding ('Elephantmen'), & Ed Machiavello ('Flintlock') among many others!
"The stories range in length and tone, although each contains an unmistakable feeling of dread"     – Horror Talk
Written by Mark Adams & Matt Warner
Art by Atlantisvampir, Anna Susanne, Ahmed Raafat, Ed Machiavello, Luca Cicchitti, Jamie Keys, Abigail Jill Harding, Bartolomeo Argentino, Jamie Chapman, Neil McClements, & Ilan.
Lettering by Nikki Foxrobot.
---
Related Comics