By Series
---
By Release Date
---
By Writer
---
By Artist
---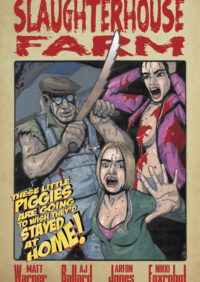 SLAUGHTERHOUSE FARM #1
---
Description
Frankie thought her weekend in the wilds of Snowdonia with a minibus full of troubled teens couldn't get any worse. And then she met HIM. Blood. Death. Pigs. If she makes it out alive, life is never going to be the same again.
Slaughterhouse Farm is a blood-soaked homage to the grindhouse horror classics of the 70s and 80s with a North Wales twist. Created by horror fans for horror fans, this comic does not pull its punches.
Written by Matt Warner and AJ Ballard.
Art by Arfon Jones.
Lettering by Nikki Foxrobot.
---
Related Comics