By Series
---
By Release Date
---
By Writer
---
By Artist
---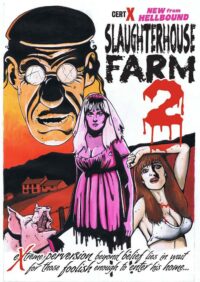 SLAUGHTERHOUSE FARM #2
---
Description
A 'tongue in cheek homage to '70s grindhouse nasties like The Hills Have Eyes and The Texas Chain Saw Massacre set in modern day North Wales.'
Slaughterhouse Farm is a blood-soaked homage to the grindhouse horror classics of the 70s and 80s with a North Wales twist. Created by horror fans for horror fans, this comic does not pull its punches.
Written by Matt Warner and AJ Ballard.
Art by Arfon Jones.
Lettering by Nikki Foxrobot.
---
Related Comics